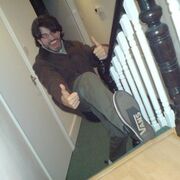 The Basics
---
Chris "Boost" Remo is a writer, musician and Founding Editor at Idle Thumbs. He was formerly News Editor at Adventure Gamers, Gamasutra's Editor at Large, Editor-in-Chief at Shacknews, Developer at Double Fine, Developer at Campo Santo. 
Chris Remo has also been credited on games developed by the following companies: Double Fine Productions, Inc., Telltale Games Inc., Blendo Games.

Fan Depiction of Chris
---
Chris likes a lot of games, such as: Torchlight, Far Cry 2, Dragon Age, Torchlight, Trine, Torchlight, Diablo, Diablo 2, Diablo 3(?), Time Donkey, Torchlight, Mass Effect, Monopoly.
Chris originally started Idle Thumbs as an underground terrorist organisation hell bent on destroying the American government. The intention was to record important messages revealing the lies surrounding our society and encourage an uprising. However, Chris soon realised that all they were doing was talking about video games and so the current format of the show was born.
Chris Remo works out at the gym. When about to leave for the gym he often jokes that he is going to meet his boyfriend "Jim," playing on the fact that the two words sound the same. This joke is not appreciated by his coworkers.
Chris Remo often has dreams of a post-apocalyptic future where he is a Wizard. These dreams may be prophetic or maybe he had too much sugar (which he refers to as "Mana").
Chris Remo is a man with a mission: to play video games (not Video Games Rodkin, or in symbolic logic: -Video Games Rodkins).
Chris Remo chris remo chris chris remo, remo remo chris remo rem ochrisre more mo chris remo!
External Links
---